Membership includes all Main Line & Bet Bomb bets

MAIN LINE
The original private tipping service from Britain's top tipster Henry Rix – 27 years of incredible profits now totalling over £637,000
Members have made outstanding gains after major changes behind the scenes. Our new tech developers have significantly increased the betting value of our various form models for both Flat and Jump horse racing.
We have seen major improvement in our statistical analysis and strongly believe that this will have an extremely positive effect on future profits.
Henry averages around two to four high value bets per week during the year, with an average stake of two to three points per bet. Henry bets at £200 per point but members can allocate any amount they wish.
All betting tips are sent via text message or via notifications from our dedicated Ultimate VIP Telegram channel and are also available on the Rixbets MEMBERS PAGE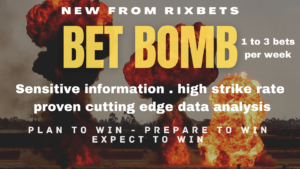 BET BOMB
An exciting new service that replaces Inner Circle and Inside Extra and now sits alongside the Main Line to form our exclusive Ultimate Package.
Expect between one and three bets per week concentrating on HIGH STRIKE RATE selections driven by CUTTING EDGE DATA ANALYSIS and SENSITIVE INFORMATION from our extensive list of exceptional contacts.
Our INNER CIRCLE bets recorded big profits and an excellent strike rate of 66% in 2022 – a great example of what you can expect from Bet Bomb.
Bets bomb selections can be purchased as part of the Ultimate package, but also separately on our FREE Telegram channel. Monthly for £14.99.
Download Telegram, join our FREE channel and then click our subscription link to buy the next month or week of Bet Bomb selections with card or Apple Pay etc. You will then receive the bets via notifications from our dedicated Bet Bomb VIP Telegram channel.
Our aim is to significantly improve the entire RixBets experience. Enjoy the ride.